ONE GOAL
MAKE PROVENCE-ALPES-CÔTE D'AZUR A LEADER
IN THE GLOBAL FIGHT AGAINST CLIMATE CHANGE
► Key Figures
€14 billion
---
in annual turnover
3700
---
companies & institutions
► Major Advantages
➜ 300 DAYS OF SUN PER YEAR


➜ THE #2 SITE IN FRANCE FOR   OFFSHORE FLOATING WIND TURBINES


➜ THE WORLD-CLASS CAPENERGIES CLUSTER
This leading network of energy stakeholders has 530 members and a combined budget of €582 million for regional innovation projects.

➜ ITER: INTERNATIONAL THERMONUCLEAR EXPERIMENTAL REACTOR
Global nuclear fusion project run by an alliance of 35 countries and the adjoining Caderache nuclear research and low-carbon energy site
➜ EDF's NUCLEAR ENGINEERING DIVISION IN MARSEILLE
 Advanced engineering for France's operational nuclear power plants.
➜ A VAST REAL-WORLD DECARBONATION LAB
At the port, airport, and industrial complex sites of Fos, Étang de Berre and Gardanne
➜ ÉTANG DE BERRE
#1 French ecosystem for low-carbon hydrogen production and consumption
➜ CARBON SOLAR MEGAFACTORY
For the production of photovoltaic cells and solar panels at the Port of Marseille-Fos: €1.5 billion euros of investment
➜ STATE-OF-THE-ART TRAINING FACILITIES
Engineering schools (ENSAM, Polytech Marseille, Mines Paris Tech Sophia Antipolis, Centrale Marseille) and specialized Master's programs (Eco Campus Provence Formation, Smart Campus Nice, Sophia Antipolis).
► Regional Excellence
► Global Leaders
HYDROGEN 

AIR LIQUIDE, ALCRYS, ELYSE ENERGY, ENGIE, ENOGIA, GEOGAZ, GÉOMETHANE, GREENGT, GRTGAZ, H2V, HELION HYDROGEN POWER, HY2GEN, HYNAMICS, HYNOVA, HYSILABS, KEM ONE, LHYD, LYONDELLBASELL, NEPTECH, PROVIRIDIS, TOTALENERGIES, SAKOWIN
RENEWABLE ENERGIES
ALTO SOLUTIONS, BORALEX, CARBON SOLAR, CNR, CVE, DUALSUN, EDF, ENGIE, IDEOL, LUMI'IN, OMBREA, SERENY SUN, SOLAR CLOTH SYSTEM,  TENERGIE, VOLTALIA, TYSILIO, TOTAL ENERGIES
NUCLEAR
ASSYSTEM, AXONE, ADF, CEA, CIMAT, CMR, CSTI, EDF, SPIE, ONET, MIRION, ORTEC, SNEF, TECHNICATOME
4 STRATEGIC PRIORITIES
Decarbonize transportation

Decarbonize industry

Produce renewable / low-carbon hydrogen

Structure the sector to create jobs and economic activity
50+
---
Projets (R&D, rollout of ecosystems, training, etc.) initiated in fives years
1
---
regional hydrogen plan with a €110 million investment in the sector
1
---
regional hydrogen club and a network of more than 100 stakeholders 
MAJOR PROJECTS & PROGRAMS TO STRUCTURE THE REGIONAL ECOSYSTEM
The Marseille-Fos hydrogen basin: decarbonizing the industrial-port area
H2MED or BarMar: Underwater renewable hydrogen pipeline between Barcelona and Marseille, which should transport 10% of European consumption when it is made operational before 2030
Multiple projects across the territory: Hynovar (83), Cannes Lérins (06), H2 Vaucluse (84), Gap (05)
Sucess stories
CARBON chooses Fos-sur-Mer in the South of France for its first photovoltaic gigafactory
"In Fos-sur-Mer, CARBON is joining a region rich in tradition and history, looking to the future, particularly  in the field of low-carbon and sovereign energy".
Pierre-Emmanuel Martin
President and co-founder, CARBON
Fos-sur-Mer
ITER is a great opportunity to boost skills and economic development in the South of France.
500 companies are already working for this one-of-a-kind research facility, and new companies are setting up in the region. Providing them with a personalized service is at the heart of Agence ITER France's mission, along with the regional and national public players involved.
Eric Kraus
Directeur, Agence ITER France (13)
Cadarache
International Business Unit Manager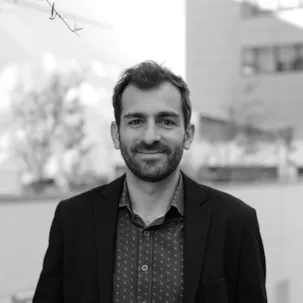 Sébastien Clouzet
Financial and Territorial Planning - Energies of Tomorrow & Fund Raising (Invest PME)
Contact Us